Dawn Manning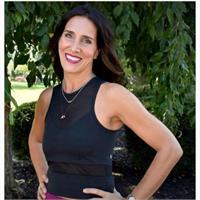 Dawn became passionate in her yoga practice in 2005 while going through some major changes in her life. She began an avid practice schedule following many favorite instructors. She felt inspired over the years by Marni Task and that eventually led her to her training in 2012. She completed her 200-hour certification with Jonny Kest in Michigan.
Her passion now is leading students through a breath focused, live in the heart life power yoga or slow burn class. You can expect to have fun playing and flowing on your own at some point in her classes with the music cranked! She encourages students to follow their breath and their intuition, always listening to their bodies and following that which resonates within them.
Dawn's power yoga classes will open your heart and mind with inspiration, flow and great music! She has a deep yearning for bringing all that her experience has done for her to each and every one of her students. She believes you are capable of anything... you only have to believe and let go for things to fall into place. She brings this feeling to the mat.
Dawn is also a raw food educator and certified detox specialist. She is a raw food advocate and also offers workshops on raw vegan living and detox cleanses.
You can check out recipe demos on her You Tube channel at: Doin it Raw With Dawn.
Dawn Manning instructs the following:
Welcoming students of all levels, this 75-minute all about the basics class is based on linking your breath with your movement, leaving you energized and focused throughout. Vinyasa classes are richly infused with classical yoga teachings such as sun salutations, basic inversions and back-bends along with pranayama and light meditation to tame the mind and open the heart. The room will be set at 90 degrees. Bring a towel and water bottle in with you, both of which we have available for sale at the studio.




*The heat is not for everyone and can be overwhelming at times/upon your first visit. Listen to your body! Exit the class at any time if need be and a desk yogi will be there if you need anything.

Suitable for all levels: some prior experience recommended but not mandatory. / Balancing classes: Yin Yoga, Restorative Yoga, Gentle Yoga




Based on the teachings of Baron Baptiste, this 75-minute Power Vinyasa class incorporates strength, flexibility, balance, cardio, and physical and mental stamina all in one! Be prepared to break a sweat as the studio is set between to 90 degrees. The deeper your connection of movement and breath becomes, the more the heat begins to build inside as opposed to around you, leaving you fully charged and present in each pose. Practicing in a heated environment increases your flexibility as it opens and loosens your muscles. Bring a towel and water bottle in with you, both of which we have available for sale at the studio.

*The heat is not for everyone and can be overwhelming at times/upon your first visit. Listen to your body! Exit the class at any time if need be and a desk yogi will be there if you need anything.




Suitable for intermediate yogis: some prior yoga experience recommended. /

Balancing classes: Yin Yoga, Restorative Yoga, Gentle Yoga, Deep Stretch Vinyasa




Welcoming students of all levels, this 75-minute class is based on linking your breath with your movement, leaving you energized and focused throughout. Vinyasa classes are richly infused with classical yoga teachings such as sun salutations, basic inversions and back-bends along with pranayama and light meditation to tame the mind and open the heart. The room will be moderately heated between 75-78 degrees. Bring a towel and water bottle in with you, both of which we have available for sale at the studio.




Suitable for all levels: some yoga experience recommended but not mandatory. /

Balancing classes: Yin Yoga, Restorative Yoga, Gentle Yoga, Deep Stretch Vinyasa




This is a 60-minute Power Vinyasa class. Be prepared to break a sweat as the studio is set to 90 degrees. The deeper your connection of movement and breath becomes, the more the heat begins to build inside you as opposed to around you; leaving you fully charged and present in each pose. Practicing in a heated environment increases your flexibility as it opens and loosens your muscles. Bring a towel and water bottle in with you, both of which we have available for sale at the studio

*The heat is not for everyone and can be overwhelming at times/upon your first visit. Listen to your body! Exit the class at any time if need be and a desk yogi will be there if you need anything.

Suitable for intermediate yogis; some prior yoga experience recommended. /

Balancing classes: Yin Yoga, Restorative Yoga, Gentle Yoga, Deep Stretch Vinyasa