Natalie Lorber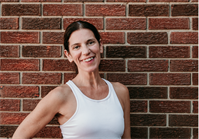 Natalie has been a dedicated, passionate and joyful practitioner of Yoga for over 10 years. She is a graduate of T.R.Y. 4 Life Yoga Certification, a Yoga Alliance Registered Teacher and has dedicated her training hours to the very best... Johnny Kest and Diana Vitantonio.
"I have learned to use Yoga to enrich and accept all aspects of my life. My classes are balanced, energizing classes, which encourage effort and awareness and are sensitive to individual students' needs. I believe my passion and enthusiasm for Yoga and for my students is what drives us to grow and get to a deeper level together."
Natalie enjoys teaching students of all abilities with a patient approach. She likes to guide her students towards a focused center of self-awareness, energy, and creativity. Natalie's love of Yoga is infectious, challenging and energetic. Come join one of her Power Yoga classes today!
Natalie Lorber instructs the following:
This is a 60-minute Power Vinyasa class. Be prepared to break a sweat as the studio is set to 90 degrees. The deeper your connection of movement and breath becomes, the more the heat begins to build inside you as opposed to around you; leaving you fully charged and present in each pose. Practicing in a heated environment increases your flexibility as it opens and loosens your muscles. Bring a towel and water bottle in with you, both of which we have available for sale at the studio

*The heat is not for everyone and can be overwhelming at times/upon your first visit. Listen to your body! Exit the class at any time if need be and a desk yogi will be there if you need anything.

Suitable for intermediate yogis; some prior yoga experience recommended. /

Balancing classes: Yin Yoga, Restorative Yoga, Gentle Yoga, Deep Stretch Vinyasa




Based on the teachings of Baron Baptiste, this 75-minute Power Vinyasa class incorporates strength, flexibility, balance, cardio, and physical and mental stamina all in one! Be prepared to break a sweat as the studio is set between to 90 degrees. The deeper your connection of movement and breath becomes, the more the heat begins to build inside as opposed to around you, leaving you fully charged and present in each pose. Practicing in a heated environment increases your flexibility as it opens and loosens your muscles. Bring a towel and water bottle in with you, both of which we have available for sale at the studio.

*The heat is not for everyone and can be overwhelming at times/upon your first visit. Listen to your body! Exit the class at any time if need be and a desk yogi will be there if you need anything.




Suitable for intermediate yogis: some prior yoga experience recommended. /

Balancing classes: Yin Yoga, Restorative Yoga, Gentle Yoga, Deep Stretch Vinyasa